Plastic Raw Material Polyvinyl Chloride Resin PVC Resin powder

Introduction of Polyvinyl Chloride Resin PVC Resin powder
PVC resin: the thermoplastic high-molecular polymer made by the suspension polymerization of vinyl chloride monomer. The molecular formula :- (CH2 - CHCl) n - (N: degree of polymerization, N= 590 ~ 1500)

Classification of Polyvinyl Chloride Resin PVC Resin powder
| | |
| --- | --- |
| Appearance | white power |
| CAS | 9002-86-2 |
| EINECS No. | 200-831-0 |
| SG-5 value | K68-66 |
| Other Products | SG-1/SG-2/SG-3/SG-4/SG-6/SG-7/SG-8/EMULSION PVC |
| Packing | 25kg bags or as your require |
| Payment | L/C, TT, DA, DP |
| Loading | Qingdao port |
| HS Code | 3904109001 |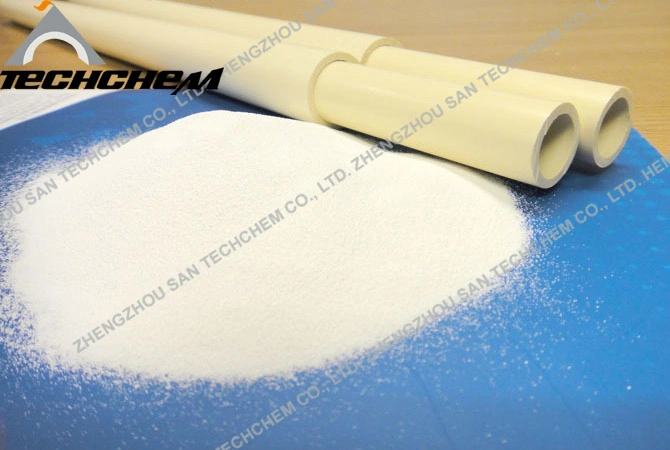 Specification of Polyvinyl Chloride Resin PVC Resin powder

Reference standard: GB/T 5761-2006 Standard
| | | | | | | | | |
| --- | --- | --- | --- | --- | --- | --- | --- | --- |
| Type: | SG1 | SG2 | SG3 | SG4 | SG5 | SG6 | SG7 | SG8 |
| K value | 77-75 | 74-73 | 72-71 | 70-69 | 68-66 | 65-63 | 62-60 | 59-55 |
| Viscosity, ml/g | 156-144 | 143-136 | 135-127 | 126-119 | 118-107 | 106-96 | 95-87 | 86-73 |
| Average polymerization | | | 1350-1250 | 1250-1150 | 1100-1000 | 950-850 | 950-850 | 750-650 |
| Number of impurity particle max | 30 | 30 | 30 | 30 | 30 | 30 | 40 | 40 |
| Appearing density g/ml min | 0.42 | 0.42 | 0.42 | 0.42 | 0.42 | 0.45 | 0.45 | 0.45 |
| Residual after sieve 0.25mm mesh max | 2.0 | 2.0 | 2.0 | 2.0 | 2.0 | 2.0 | 2.0 | 2.0 |
| 0.063mm min | 90 | 90 | 90 | 90 | 90 | 90 | 90 | 90 |
| Number of grain/400cm2 max | 40 | 40 | 40 | 40 | 40 | 40 | 40 | 40 |
| Plasticizer absorbency value of 100g resin | 25 | 25 | 25 | 22 | 19 | 16 | 14 | 14 |
| Whiteness % min | 74 | 74 | 74 | 74 | 74 | 74 | 70 | 70 |
| Residual chlorethylenecontent mg/kg max | 5 | 5 | 5 | 5 | 5 | 5 | 5 | 5 |
| Ethylidene chloride mg/kg max | 150 | 150 | 150 | 150 | 150 | 150 | 150 | 150 |

Application of Polyvinyl Chloride Resin PVC Resin powder
It is widely used in the production of water pipe, chemical pipe, plastic windows and doors, packing film, plastic carpet, plastic ceiling, sanitary fitting, leatheroid, plastic wallpaper etc.
1. PVC soft products.
It can be made of hoses, cables, wires, plastic sandals, shoes, slippers, toys, auto parts etc.
2. PVC film.
The transparent film can be used for greenhouses, plastic greenhouses and plastic film mulch. It can also be used for packaging bags, raincoat, table cloth, curtains, inflatable toys etc.
3. PVC coated products.
Can be used to make leather luggage, purses, book covers, sofa and car seat,etc. As well as floor covering, flooring materials for buildings.
4. PVC foam products.
Can be used for foam slippers, sandals, insoles, and anti-ibration cushioning packaging material, Rigid PVC sheet and profiles, it is a new building material.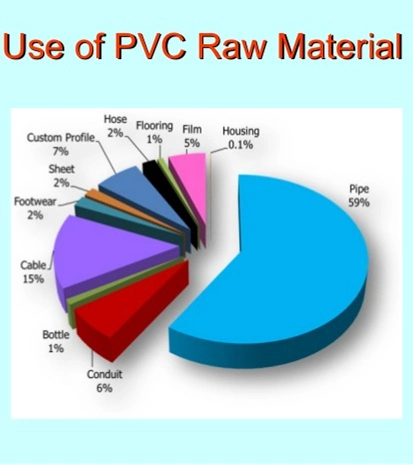 Package of Polyvinyl Chloride Resin PVC Resin powder
PVC Resin Packing: In net 25kg PP woven PE lining bag or 25kg craft paper bag; 17MT/20'FCL without pallet

Storage of Polyvinyl Chloride Resin PVC Resin powder
Keep the product un-stacked in dry and closed rooms at normal temperature and air humidity. To achieve best possible results, we recommend storage under the condition stated above and use within 12 months from delivery. Avoid breathing duct when handling, and wash with soap & water in case of skin contact.



CUSTOMER'S FEEDBACK