Welcome to SUNWAY world of Chloride!!!!

1,Chemical name: Calcium Chloride
2,Molecular formula: CaCl2
3, Molecular weight: 111
4,CAS:10043-52-4
5,Character: white at room temperature, hard fragments or particles. Its common applications include brine used for refrigeration equipment, road ice melting agents and desiccant.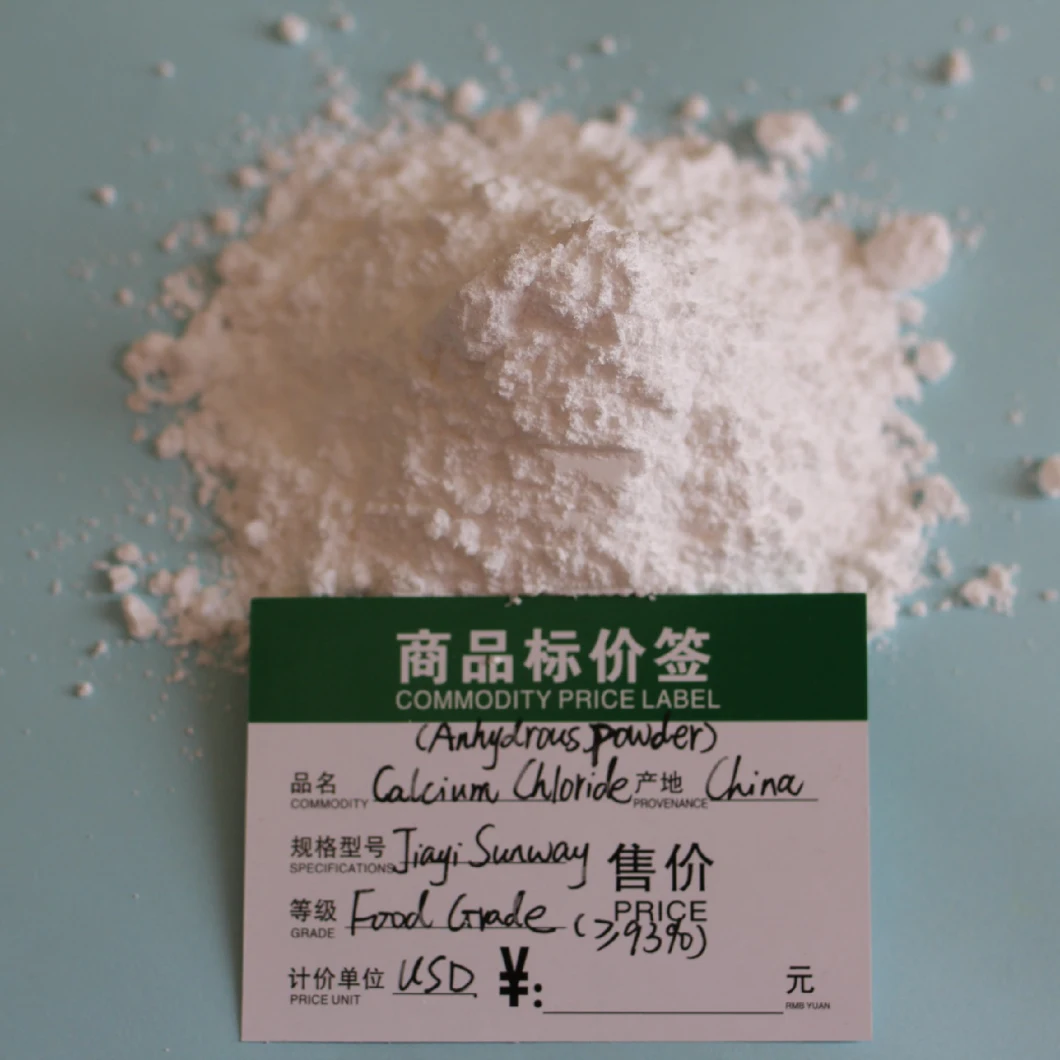 6,Usage: as a versatile desiccant, such as nitrogen, oxygen, hydrogen, hydrogen chloride, sulfur dioxide and other gases drying.
7,Packing:lined with polyethylene plastic bags, wrapped in plastic woven bags, net weight of 25 kg per bag.
8, Storage: stored in a cool, ventilated warehouse. Packing containers must be sealed against moisture. Stacking apart and deliquescent items.
Index
GB1886.45-2016
Anhydrous
Dihydrate
Liquid
1
2
1
2
Content(CaCl2), w/%≥
94.0
90.0
77.0
74.0
12~40
Alkalinity[Ca(OH)2] w/%≤
0.25
0.20
0.20
Total alkali metal chloride(NaCl) w/%≤
5.0
5.0
11.0
Water insoluble matter w/%≤
0.25
0.15
--
(Fe), w/%≤
0.006
0.006
PH
7.5~11.0
Total Mg(MgCl2), w/%≤
0.5
Sulfate(CaSO4), w/%≤
0.05
Contact information:
Belly Wang
Sales Manager

Nanjing jiayi Sunway chemical Co., Ltd is located in the ancient capital of the Six Dynasties - Nanjing. The main business to produce and sell food additives, is based on Calcium phosphate, Sodium diacetate, acetate, sulfate, citrate, phosphate, sodium alginate, agar, which integrate research, development, production and sales as a whole. Our company invest built factories in many cities around China, produce oneself advantage, developing marketing network, focus on corporate image, Keep improving to win market and customers alike. We have a professional international trade team. Establishment of a good cooperative relationship with the United States, Southeast Asia, Japan and Korea. We aim to "Service and sincere in exchange for your trust and support, mutual benefit and create win-win! "