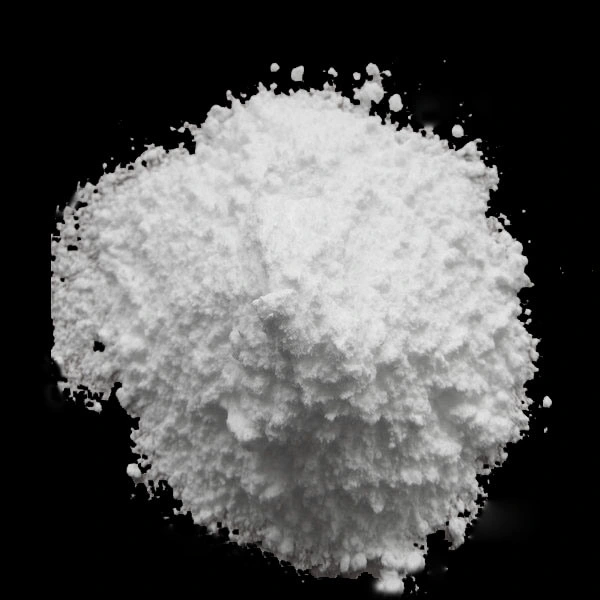 1. Simple Introduction
Melamine is a versatile basic organic chemical intermediate product. The most important use is as a raw material for the production of melamine/formaldehyde resin (MF), building template melamine glue, dipped paper, melamine tableware. Melamine can also be used as a flame retardant, a water reducing agent, a formaldehyde cleaner, and the like. The resin is higher in hardness than urea-formaldehyde resin, non-flammable, water-resistant, heat-resistant, aging-resistant, arc-resistant, chemical-resistant, has good insulation properties, gloss and mechanical strength, and is widely used in wood, plastic, paint, paper, textile. , leather, electrical, pharmaceutical and other industries.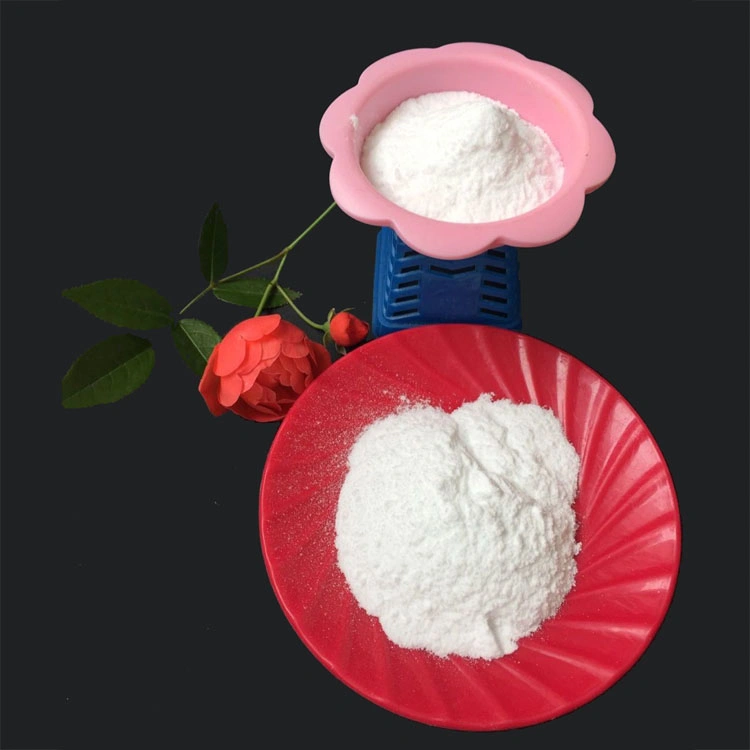 2.Physical and chemical characteristics
Physical properties
Appearance: White, innoxious, flavorless crystalline powder.
Solubility: Soluble in methanol, formaldehyde, acetic acid, hot ethylene glycol, glycerol, pyridine; Slightly soluble in water,
ethanol: Do not dissolve in ether, benzene and carbon tetrachloride. Weakly alkaline aqueous solution.
Chemical properties
Melamine presents alkalescence, can react with various acidums to generate melamine salt. In strong acid or strong alkali liquor,
melamine will hydrolyze---amido group will be slowly replaced by hydroxyl, thus generate ammeline, Cyanuric Acid and Ammelide. It
can react with aldehydes to produce addition compounds. Among them, the reaction of melamine and formalin is the most important part.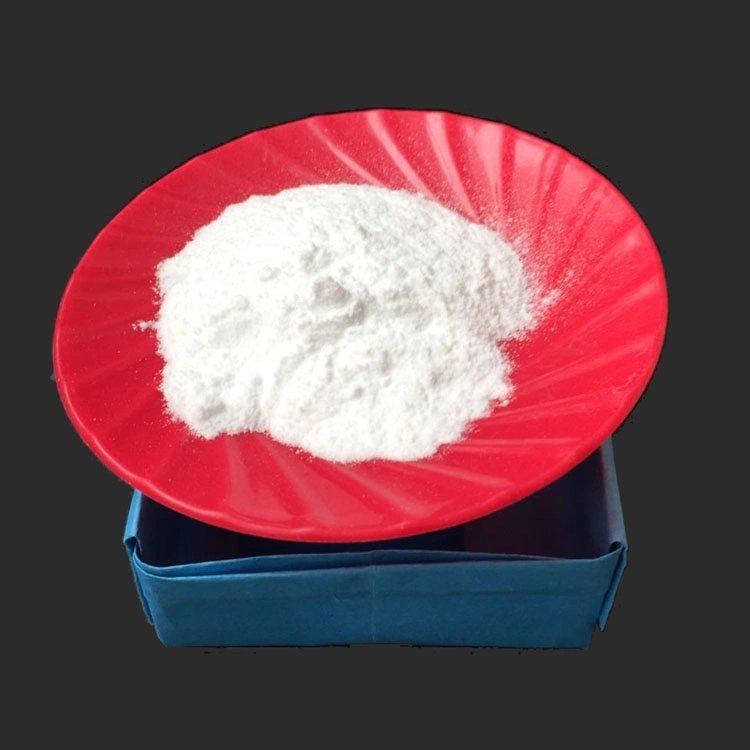 3. Product details
| | |
| --- | --- |
| Name | Melamine |
| CAS NO. | 108-78-1 |
| Chemical formula | C3H6N6 |
| Appearance | White crystal powder |
| Molecular weight | 126.12 |
| Density | 700-900kg/m3 |
| Melting point(ºC) | 354ºC |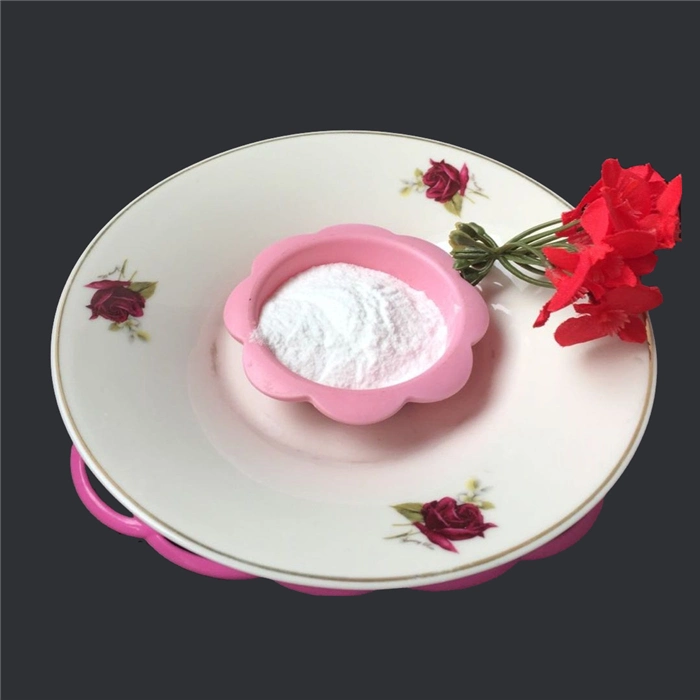 4. Specifications
Executive Standard:GB/T 9567-2016
Item
Index
Special Grade
First Grade
Content,w/%
≥99.8
≥99.0
Moisture,w/%
≤0.1
≤0.2
PH
7.5-9.5
Color(Pt-Co)degree
≤20
≤20
Kaolin turbidity degree
≤20
≤20
Ash content,w/%
≤0.03
≤0.05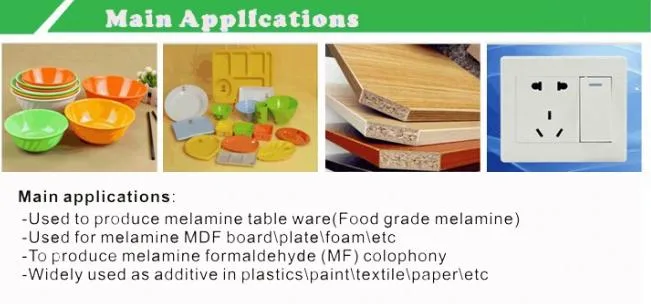 5.Applications
1. Decorative panel:
It can be made into fireproof, shockproof and heat resistant laminate. It has bright color, strong and heat-resistant decorative board. It is used as a veneer for aircraft, ship and furniture, and as a fireproof, earthquake-resistant and heat-resistant house decoration material.

2. Coating:
After etherification with butanol and methanol, it can be used as a high-temperature thermosetting coating, a solid powder coating adhesive, and can be used to make metal coatings and high-grade amino resin for vehicles and electrical appliances.

3. Molding powder:
It can be made into melamine plastic by mixing, granulating and other processes. It is non-toxic and anti-staining. It can maintain good electrical performance when wet. It can be made into white, resistant and resistant daily utensils. Advanced insulation materials such as sanitary ware and melamine tableware, electrical equipment.
4. Paper:
etherified with ether can be used as a paper treatment agent to produce anti-wrinkle, anti-shrink, non-corrosive banknotes and military maps and other high-grade paper.

5. Others
melamine-formaldehyde resin mixed with other raw materials, can also produce fabric finishing agents, leather emollients, polishes and water-repellent agents, rubber binders, combustion improvers, high-efficiency cement water reducers, steel desalination Agents, etc.



6.Packing, Transport & Storage
Packing: 1)25kg bag with pallet,20MT/FCL
2)25kg bag without pallet,22MT/FCL
3)500kg/1000kg bag,20MT/FCL
It should be kept dry,stored in cool and well ventilated place,avioding to be stored and transport with acid and oxidant together.